The wind was high on Florida's Captiva Island this morning, whipping up whitecaps on the usually placid Gulf of Mexico and forcing the row of staid palms along the beach to bend southward in rigorous, calisthenic formation.  But less than a mile down the island, a winding road led us back into a wide expanse of mangrove estuaries. They lay still and almost silent under the noonday sun. This area of protected interior wetlands is home to thousands of egrets, herons, and other wading birds, and a welcome resting place for white pelicans and other migrating creatures, such as ourselves.
The J. N. "Ding" Darling National Wildlife Refuge is named for the Pulitzer-Prize winning editorial cartoonist and passionate conservationist who saved the more than 5,000 acres of wetlands (about 60 percent of Captiva and Sanibel) from development in the 1940s.  The day of our visit, dozens of snowy egrets, pelicans, and the occasional osprey, dozed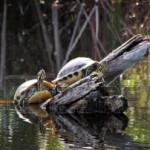 together on a sandy islet while an anhinga, its wings spread like a fringed gypsy shawl, hunted in the shallow copper-colored water. We saw two tortoises, perhaps a mother and child, sunning themselves on a hammock of mangrove roots.  A pair of grebes floated on the bay while a trio of willets kept watch from the shallows.  A friendly birder told me an easy way to identify a willet, which often stands on one leg: "Will-it or will-it not fall over?"
I've found that people who love birds tend to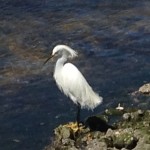 have patient, generous natures, willing to watch and wait for life's small joys. "There!" a man near me whispered, pointing to the rocks below.  We'd been gazing through our binoculars at the rows of pelicans and egrets who were roosting in the mangrove trees.  "There!" Not six feet away stood this snowy egret.