Chicken Breasts Stuffed with Fontina and topped with Cherry Tomatoes Caramelized in Balsamic Dressing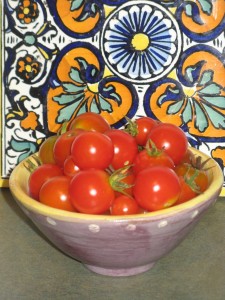 At the end of most summers in the Berkshires, my cherry tomato vines hang so thick and heavy with ripe, red cargo that their metal supports sway under the weight.  Not so this unusually damp, cool season. By early September, already getting word of frost warnings a few counties north of us, I finally gave up hoping for a miracle (or at least a decent stretch of 90 degree heat and some uninterrupted sun) and harvested the sorry crop of mostly marble-sized tomatoes.  With a tomato blight wiping out so many of the professionally grown plants in the area, however, I prized even this meager yield and vowed to make the most of it.  I turned half my cherished hoard of cherry tomatoes into easy-to-make and even easier-to-eat appetizers: halved, stuffed with a mixture of marinated feta and kalamata olives: salty, crunchy, sweet, and simply delicious!
The other half I used in this terrific recipe of boneless breasts stuffed with  fontina cheese and sautéed on top of sage leaves. The real glory of the dish is the sweet, tangy sauce made from the tomatoes (I used my cherries), balsamic vinegar and stock (though I've also used a couple of tablespoons of butter instead of the stock for a denser sauce).  A satisfying meal with a complex blend of flavors — and all on the table within half an hour.
Chicken Breasts Stuffed with Fontina and topped with  Cherry Tomatoes Caramelized in Balsamic Dressing
Four 6-ounce skinless, boneless chicken breast halves, tenders removed and reserved for another use
Salt and freshly ground pepper
1 ounce Fontina, Manchego or fresh Pecorino Romano cheese, shaved with a vegetable peel
8 sage leaves
1 tablespoon extra-virgin olive oil
1 small shallot, minced
1 1/2 cups cherry tomatoes, halved
2 tablespoons balsamic vinegar
1/4 cup chicken stock or canned low-sodium broth
Using a knife, cut into the side of each chicken breast half to create a pocket; do not cut all the way through. Season the pockets with salt and pepper and stuff them with the Fontina. Close the chicken pockets, tucking in any filling. Pound with a meat pounder to flatten slightly.
In a large nonstick skillet, heat 2 teaspoons of the olive oil until shimmering and add the sage leaves. Season the chicken with salt and pepper, add to the pan on top of the sage, and cook over moderately high heat, turning once, until golden and cooked through and the cheese is beginning to melt, about 12 minutes. Transfer to plates, cover loosely and keep warm.
Add the remaining 1 teaspoon of olive oil to the skillet along with the shallot and cook over moderate heat until softened. Add the tomatoes and cook, tossing, until heated through, about 2 minutes. Add the vinegar and cook until nearly evaporated, about 30 seconds. Add the stock, season with salt and pepper and simmer until slightly reduced, about 2 minutes. Spoon the caramelized tomatoes over the chicken and serve.