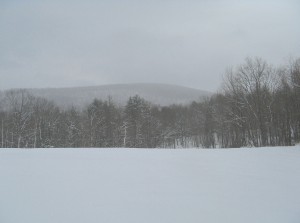 It's been an oddly snowless winter in the Berkshires this year. The storm that is barreling up the coast will bypass us for the most part. All remains quiet, the ground a patchwork of tired brown and white. But winter is a state of mind as much as anything, a season of inwardness and contemplation. And so I woke this morning, thinking of this poem by the prolific and versatile American poet William Jay Smith who died this past year at the age of 97.
WINTER MORNING
by William Jay Smith, 1918 – 2015
All night the wind swept over the house
And through our dream
Swirling the snow up through the pines,
Ruffling the white, ice-capped clapboards,
Rattling the windows,
Rustling around and below our bed
So that we rode
Over wild water
In a white ship breasting the waves.
We rode through the night
On green, marbled
Water, and, half-waking, watched
The white, eroded peaks of icebergs
Sail past our windows;
Rode out the night in that north country,
And awoke, the house buried in snow,
Perched on a
Chill promontory, a
Giant's tooth
In the mouth of the cold valley,
Its white tongue looped frozen around us,
The trunks of tall birches
Revealing the rib cage of a whale
Stranded by a still stream;
And saw, through the motionless baleen of their branches,
As if through time,
Light that shone
On a landscape of ivory,
A harbor of bone.