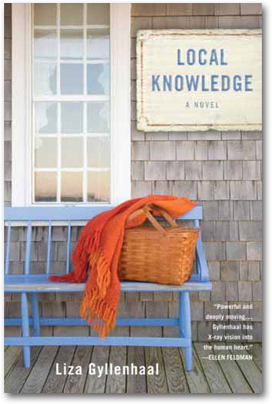 A "gripping and deeply perceptive" debut novel about the power of family, the nature of true friendship, and the terrible decisions we sometimes make to gain our heart's desire…
Maddie Alden has always longed for more than her small, economically depressed upstate New York town could offer. The real estate boom that transformed the countryside after 9/11 seems to bring her just that: a chance for Maddie, the mother of three girls, to pursue a career as a real estate agent. In her first big sale to wealthy weekenders, Maddie meets the mercurial Anne Zeller who is the epitome of everything Maddie longs to be. Seeking Anne's friendship and approval, Maddie, without realizing it, slowly begins to let go all that is most dear to her.
Local Knowledge explores the clash of cultures between the long-established local community and the wave of new second-homeowners. It is a powerful story of two friendships—Maddie's with Anne—and Paul's with his best friend, the iconoclastic Luke Barnett, whose roots go back to the area's the first settlers. Local Knowledge tells the passionate tale of two love-affairs and how an event—long buried in the past—resurfaces in the present and ultimately affects the fortunes of everyone involved.
Paperback | 368 pages | NAL Trade | 1/6/09 | 0451225783 | 9780451225788
Buy the book
Praise for Local Knowledge
"Enjoyable and intriguing … Gyllenhaal has a magnificent grasp of small-town dynamics… Gyllenhaal breaks the mold of expectation by weaving in complex interactions over years of shared economic and emotional struggles. That weaving is both figurative and literal. The alternating storyline is far more effective than typical flashback passages of many novels. The background chapters flow beautifully with the present and explain the long-standing tensions among Maddie, Paul and Luke… through Gyllenhaal's superb skill there is an almost poetic quality to how the events of the past tie into the fragile relationships of the present." — Jody Kordana, Berkshire Eagle
"How accomplished this first novel is…. A rich, authentic read… with a tightly focused cast of characters once again proving the old adage that less is more … a timely enough message if ever there was one." —Berkshire Living
"One seldom encounters characters so vivid and complete.… While the suspense first grabs the reader's attention, it is Gyllenhaal's characters that bring the story to life.… They are not archetypes — as one might expect in a suspense novel — but rather people." — Joseph Cross, Columbia Daily Spectator
"A damn fine novel.… Gyllenhaal truly makes the Berkshire setting jump to life. And she is terrific with character — I particularly admired the way she wove personality into action — so that the behavior of her characters in her setting seems natural, unforced and often really compelling. In a way, this is what really makes a novel like Local Knowledge exciting — I constantly felt as if I knew the people on the page, so I was captivated by their story … I really look forward to her next novel." — John Katzenbach, bestselling author of The Wrong Man
"This is a book to savor.… Selling real estate is the surface story, but as you peel back the layers throughout the chapters you realize it is about family relationships, old friends, and new friends." —Publishers Weekly
"Gripping and deeply perceptive.…this powerful novel reveals the pleasures and struggles of true friendship and the painful decisions we often make for acceptance and love. Small town life and work are rendered in vivid detail, as are the memorable characters who come alive in the hands of a gifted new writer." —Ben Sherwood, bestselling author of The Death and Life of Charlie St. Cloud
"A powerful and deeply moving novel about the lies we tell ourselves, the moral corners we cut, and the loved ones we betray to get what we want. Gyllenhaal has x-ray vision into the human heart and a sharp eye for contemporary mores and social maneuvering. She knows women and men and children, and pins them to the page with some of the most dazzling prose I've read in a long time." —Ellen Feldman, author of Lucy, The Boy Who Loved Anne Frank, and Scottsboro
"Invites instant immersion…. With insight and sensitivity Gyllenhaal deftly draws the reader down through the layers and layers of intimate entanglements her characters have with each other, the land and the new and old ways of life." —Tina Welling, author of Crybaby Ranch and Fairy Tale Blues