Green Beans with Ginger Butter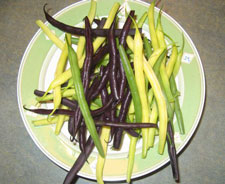 I've been growing green beans in my vegetable garden every summer for the last dozen or so years. They're an easy-going, uncomplaining, and reliable crop in general, but it wasn't until I came across a particular variety of seed a couple of years ago— a combination of green, yellow, and purple haricot verts — that I came to realize that beans have a flamboyant and exotic side as well.  The seeds, about the size of navy beans, are themselves multi-colored and should be sunk into the ground about an inch or so — and six inches apart.  They seem to sprout in any sort of weather from early spring right through the summer, growing about a foot high before unfurling delicate white snap-dragon-like flowers from which the nascent beans emerge. They're the size and shape of toothpicks at first, but can literally grow overnight — like Jack's beanstalk — into fairly monstrous proportions.
When picked young, they're tender enough to eat right off the stem — or be served raw in a summer Nicoise salad.  Six inches is about the ideal size for cooking but, a bit longer in the tooth, they can be sliced on the diagonal and boiled similar to the frozen "Italian Beans" I remember from my childhood.  In any case, freshly picked from a backyard garden and steamed or boiled, all they need is a little butter or olive oil and a grind or two of salt and pepper for the perfect side dish. Most of the children I know don't seem to view green beans with the same distrust they do other vegetables. In fact, waiving good manners for the sake of good nutrition, we allow green beans to be gathered by the fistful at our dinner table and jammed unceremoniously into the mouth.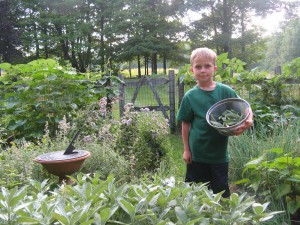 Green beans are also a wonderful foil for other tastes.  There's something about their mildness and texture that invites coupling with more assertive, sometimes outright aggressive flavors such as garlic, lemon, or anchovies.  It's pretty easy to dress up green beans and dazzle friends and family, which makes them a great addition for your upcoming holiday dinners and buffets.  Perhaps the simplest and most satisfying recipe I've found recently is this one that combines green beans with ginger and zested lemon.  It's a great dish for a crowd as it can be served at room temperature and holds its color for hours.
Green Beans with Ginger Butter
2 pounds haricots verts or other green beans, trimmed
1 (3-inch-long) piece fresh ginger
3 tablespoons unsalted butter
Finely grated zest from 1/2 lemon
1/2 teaspoon salt
preparation
Cook beans in an 8-quart pot of boiling salted water, uncovered, until just tender, 5 to 9 minutes (depending on thickness). Drain beans in a colander and transfer to a large bowl of ice and cold water to stop cooking. Drain beans again and pat dry.
Peel ginger and halve crosswise, then thinly slice lengthwise and cut into very thin matchsticks.
Heat butter in a 12-inch nonstick skillet over moderate heat until foam subsides, then cook ginger, stirring, until golden, about 3 minutes.
Add beans and cook, stirring, until just heated through, about 2 minutes. Remove from heat and add zest and salt, tossing to combine.