Corn and Chive Fritters with Avocado and Lime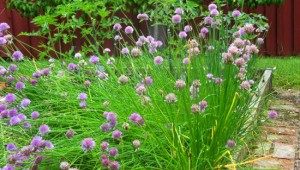 Most all the things I like to cook with chives are simple, fast, and tasty. Perhaps my favorite, adapted from the Union Square Cookbook, is skinless, boneless chicken breasts, stuffed with chevre cheese, chives, and any other herbs you might have on hand. Slit a pocket lengthwise in the breast, and spoon in chevre, softened with some olive oil and mixed with a handful of chives and other herbs. Sprinkle with salt and pepper and then saute until nicely browned in olive oil or butter. I usually put the stuffed breasts in the oven for 10 minutes or so at 375 degrees F. to make sure they're cooked through and to let the chevre/chive mixture infuse the breasts and melt a bit into the pan. Spoon the melted chevre/chive sauce over the breasts when you serve. The chicken is great with fresh asparagus and couscous.
Or try this recipe for one of the most delicious lunches you'll have all summer!
Corn and Chive Fritters with Avocado and Lime
150g (1 cup) self-raising flour
1/2 teaspoon baking powder
1-2 teaspoons lemon pepper seasoning
1 egg
250ml (1 cup) buttermilk
1 corn cob, kernels removed
1/2 bunch fresh chives, chopped
1/4 cup chopped fresh coriander
Olive oil spray
1 avocado, peeled, stone removed, coarsely chopped
1 tablespoon fresh lime juice
1 teaspoon finely grated lime rind
Fresh coriander leaves, to serve
Sift flour and baking powder into a bowl. Add seasoning. Make a well in the centre of the mix. Whisk in egg and buttermilk. Stir until just smooth. Fold in corn, chives and coriander.
Heat a non-stick frying pan over medium heat. Spray with oil. Add tablespoonfuls of fritter mixture, allowing room for spreading. Cook fritters for 2-3 minutes or until bubbles appear. Turn fritters over and cook for another 1-2 minutes or until golden. Repeat with remaining mixture.
Combine avocado, lime juice and lime rind in a bowl. Top fritters with coriander leaves and serve with lime and avocado.