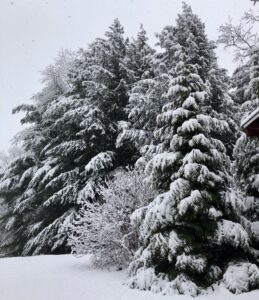 The heavier snow was supposed to fall north of us.  We were to get just a light dusting. The long mild November had managed to keep the idea of winter at bay. Only a week or so ago the oaks and beeches were still golden, and moths fluttered against the windows at night.  It seemed almost possible to believe that the unseasonal warmth might last forever. But then the snow began to fall, and this magical thinking was slowly buried under the inches that kept accumulating.  How is it that, year after year, the first real snow comes as a surprise?  Surely, we should be used by now to waking up one morning and finding that the world has turned white overnight.  But even our snowplow guy seemed caught off guard: "Can you believe this?" he asked, as our shared new reality settled in. Then he backed up, made another pass, and, metal scraping against gravel, careened back down the drive.
November
by Maggie Dietz
Show's over, folks. And didn't October do
A bang-up job? Crisp breezes, full-throated cries
Of migrating geese, low-floating coral moon.
Nothing left but fool's gold in the trees.
Did I love it enough, the full-throttle foliage,
While it lasted? Was I dazzled? The bees
Have up and quit their last-ditch flights of forage
And gone to shiver in their winter clusters.
Field mice hit the barns, big squirrels gorge
On busted chestnuts. A sky like hardened plaster
Hovers. The pasty river, its next of kin,
Coughs up reed grass fat as feather dusters.
Even the swarms of kids have given in
To winter's big excuse, boxed-in allure:
TVs ricochet light behind pulled curtains.
The days throw up a closed sign around four.
The hapless customer who'd wanted something
Arrives to find lights out, a bolted door.