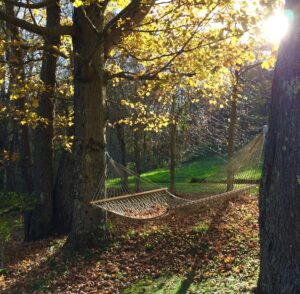 It's time to come inside.  Time to put the gardens to bed and stow the flower pots and outdoor furniture away. I've already disassembled the tomato supports (with dozens of green laggards still  clinging to the vines) and harvested the last of the arugula and lettuce. Except for the oaks and beech trees, most of the leaves have fallen, and the mountain — hidden for so many months behind the foliage — emerges from the mist, an enormous ship coming into port for the winter.
We usually wait until the last minute to take down the hammock. Strung between two old trees at the edge of our upper field,  it's a reminder of the best of summer: warmth, the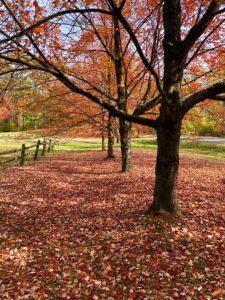 smell of freshly mown grass, the bliss of reading all one weekday afternoon in the dappled shade.  But the days have grown so much shorter now.  There's snow in the forecast.  It's time to come inside, though this year that's so much harder to face than in years past.
Here's a poem by Robert Frost on the subject which, though written very early in his career, I think exemplifies his full range of subtle, lyrical gifts and ironic power, including how one word in the last line alters and deepens the meaning of the entire poem.
Reluctance
Robert Frost
Out through the fields and the woods
  And over the walls I have wended;
I have climbed the hills of view
  And looked at the world, and descended;
I have come by the highway home,
  And lo, it is ended.
The leaves are all dead on the ground,
  Save those that the oak is keeping
To ravel them one by one
  And let them go scraping and creeping
Out over the crusted snow,
  When others are sleeping.
And the dead leaves lie huddled and still,
   No longer blown hither and thither;
The last lone aster is gone;
  The flowers of the witch hazel wither;
The heart is still aching to seek,
  But the feet question 'Whither?'
Ah, when to the heart of man
  Was it ever less than a treason
To go with the drift of things,
  To yield with a grace to reason,
And bow and accept the end
  Of a love or a season?