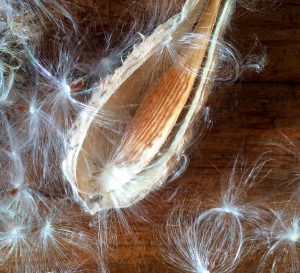 Last fall, I was given some milkweed pods by a fellow gardener who had turned over her entire garden to plants beloved by birds, insects, and butterflies. It was, as you can imagine, a magical place. I'd been hoping to plant milkweed to help sustain the struggling Monarch population, and I proudly took my prize home and opened up the pods at the top of the wild flower field. I watched the seeds drift like an army of tiny parachutes over the brown stubbled landscape. Winter soon descended, though not much snow, and I assumed the milkweed had been blown away when nothing sprouted up this spring.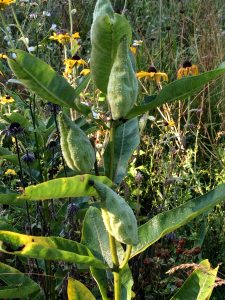 And then, in June, I came open this odd, complicated looking plant at the far end of the field — featuring ranks of leaves and heavy pods.  Soon, there were fist-sized round pink flower heads that looked like fireworks in mid-explosion. I wasn't surprised to learn milkweed is one of the most complex structures in the plant kingdom, comparable to the orchid in its many shapes and parts. It's also one of the most beautiful — a fascinating thing to watch grow and develop.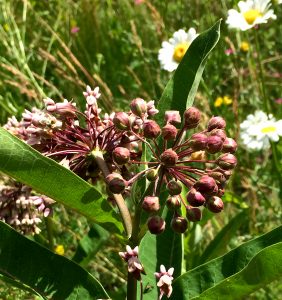 I wasn't alone in admiring it. The milkweed had callers throughout the summer — bees, moths, wasps, beetles, and butterflies all came courting. Alas, no Monarchs, though I'm sure I spotted two in another part of the garden. I've just reseeded the field again, and hope for a larger crop of milkweed next spring. Hope, spring, and garden — three of the most beautiful words (with apologies to Henry James) in the English language.
MILKWEED
by James Wright, 1927 – 1980
While I stood here, in the open, lost in myself,
I must have looked a long time
Down the corn rows, beyond grass,
The small house,
White walls, animals lumbering toward the barn.
I look down now. It is all changed.
Whatever it was I lost, whatever I wept for
Was a wild, gentle thing, the small dark eyes
Loving me in secret.
It is here. At a touch of my hand,
The air fills with delicate creatures
From the other world.