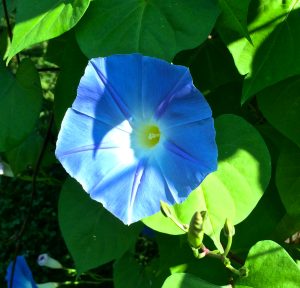 Morning glories shoot up like something out of a fairy tale — Jack's bean stalk or the roses that twined around Sleeping Beauty's castle. One morning they're a tiny cluster of heart-shaped leaves, the next they're cresting over the garden gate — a wild tangle of blue trumpets and tightly twisted vines. Once they get established in a place they like — they're not picky about soil, but tend to like sun — they'll come back year after year. Mine seem to be particularly happy growing up between the sturdy legs of the sunflowers that I plant on the edge of the vegetable garden. It's a joy to watch them unfurl on a summer morning— a crowd of dapper blue umbrellas rising above the rowdy green.  Here's a poem by Mary Oliver on the subject.
Morning Glories
Blue and dark-blue
rose and deepest rose
white and pink they
are everywhere in the diligent
cornfield rising and swaying
in their reliable
finery in the little
fling of their bodies their
gear and tackle
all caught up in the cornstalks.
The reaper's story is the story
of endless work of
work careful and heavy but the
reaper cannot
separate them out there they
are in the story of his life
bright random useless
year after year
taken with the serious tons
weeds without value
humorous beautiful weeds.