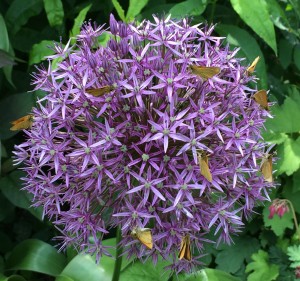 I planted Globemaster alliums three or four years ago. They're the largest and most majestic plant from the ornamental side of the large allium family which includes chives, onions, shallots, leeks, and hundreds of wild and cultivated species. (Not surprisingly, allium is the Latin word for garlic.) In full bloom, Globemasters form 6 to 8-inch perfectly rounded heads which look like purple scepters reigning over the late spring garden. This year was a particularly good one for alliums — with the chives running rampant through the vegetable garden — and the Globemasters coming into their glory in late May and holding their color and shape right up until now.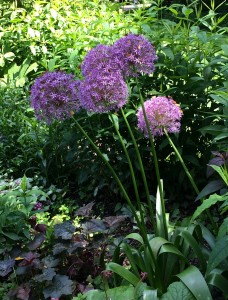 This week, though, I noticed what I thought at first were patches of rust on the densely packed florets that form the globes. But when I took a closer look, I realized that the Globemasters were covered with tiny orange butterflies about the size of a thumbnail. Though the butterflies could be found throughout the garden, fluttering around anything in bloom, they seemed particularly drawn to the purple lure — and perhaps oniony aroma — of the allium family. The bronze-colored butterflies, which I think are some variety of Folded-winged Skippers, are the perfect complement for the lavenders and purples of the alliums.
Here's a poem on the subject:
In Praise of Allium
by Denise Levertov   No one celebrates the allium. The way each purposeful stem ends in a globe, a domed umbel, makes people think, 'Drumsticks,' and that's that. Besides, it's related to the onion. Is that any reason for disregard? The flowers – look – are bouquets of miniature florets, each with six elfin pointed petals and some narrower ones my eyes aren't sharp enough to count, and three stamens about the size of a long eyelash. Every root sends up a sheaf of sturdy ridged stems, bounty to fill your embrace. The bees care for the allium, if you don't ­– hear them now, doing their research, humming the arias of a honey opera, Allium it's called, gold fur voluptuously brushing that dreamy mauve.  
For a related post, including a chive recipe, click here://www.lizagyllenhaal.com/chive-talk/