Here's a guest posting that I hope adds a touch of levity to these last grey days of March: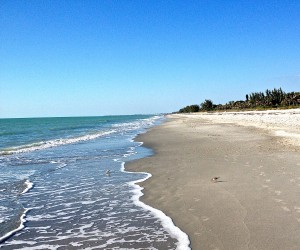 Walking along the shore of Captiva Island the other day, who should I bump into but my old teacher Linnaeus Zandtdahler. In case the name escapes you, Zandtdahler happens to be the world's leading shell taxonomist and a figure of such renown in his field that even though he has retired professionally marine museums still keep his number handy on their smart phones. When a shell previously unknown to the scientific community washes up on a beach in, say, Mexico or Australia or South Africa, you can bet that Doc Zandt will be called in to classify it and come up with a name.
     "Doc," I said, looking down at the tiny white-haired figure stooped over in front of me, "Quamdiu!"      "Quid est nomen tibi?"      "Bennett, Doc. Nomen mihi est Bennett. I once took a course with you on shell identification."      The old gentleman peered up at me. "Bennett, eh? Sic, I remember you. Your Latin was pretty bad and you had no real eye when it came to telling one specimen from another."      "I'm sorry I turned out to be a disappointment."      "Noli curare, it was a long time ago. What's that you've got there in your hand?"      "Not much. Just a little
Eupleura sulcidentata
*. "      Zandtdahler squinted at my palm.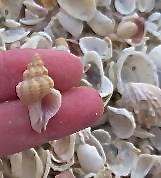 "Bennett," he said, a note of sadness in his voice, "You really haven't learned much about shells over the years, have you? That's not the
Eupleura sulcidentata
, it's a
Calotrophon ostrearum
**."      "Ignosce mihi," I said.      "Why are you still combing a Florida beach at your age?"      "Well," I said, "For a very long time I've been searching for the perfect shell to match a Latin name I've been carrying around with me all of my life. If I don't find it here on Captiva, I'll keep on looking elsewhere."      He eyed me warily. "What name could that possibly be?"       I hesitated for a moment, then I said: "
Aeterna felicitas
."      Zandtdahler sighed. "My boy, Seneca supposedly believed that, yes, 'Diligentia magna etiam mediocri intelligentiae auxilium***.' Do you take his meaning?"      I bowed my head.      "Feliciter!" said the great taxonomist as he headed away across the gray sands.        * Sharp-rib drill.    ** Mauve-mouth drill. *** Diligence is a big help to someone of mediocre intelligence.  
 — Courtesy of W. E. Bennett