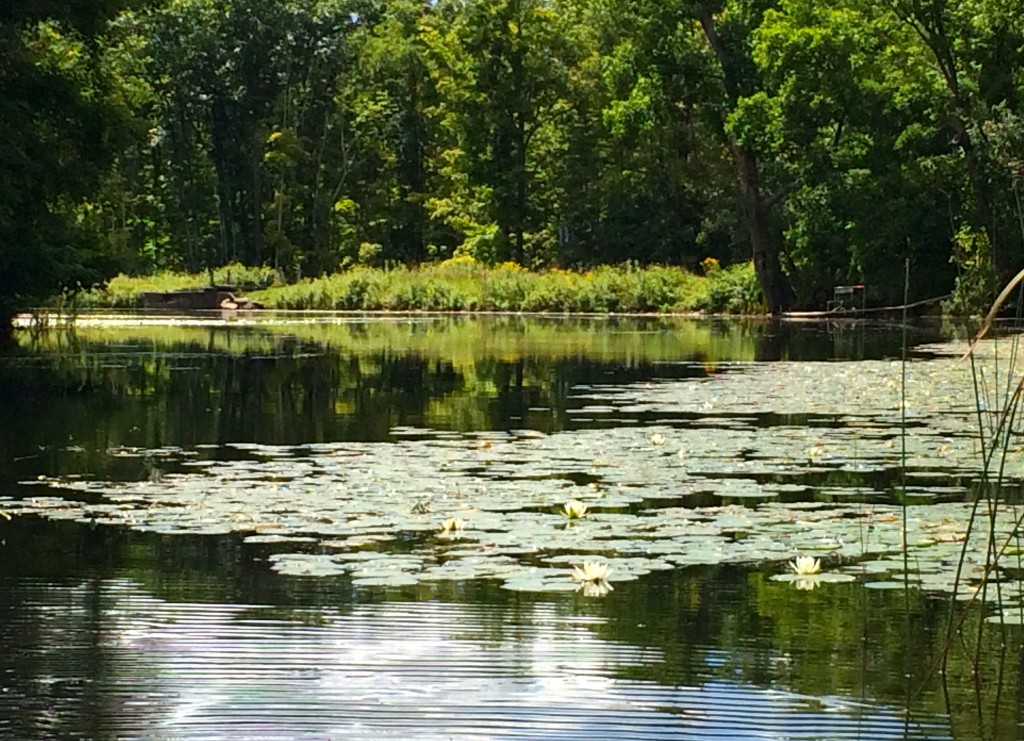 One of the largest and most beautiful water ways in the Berkshires, the Stockbridge Bowl was originally known as Lake Makeenac which means "home of the Mahekanus," a tribe of Mohicans whose council fires once burned along its shores. Though the lake is now rimmed with over 450 cottages, Kripalu (the world famous yoga and wellness center), and Tanglewood (summer home of the Boston Symphony Orchestra), it's still possible to slip away from it all — preferably by kayak — and float back into what feels like an ancient Indian hunting ground.
I'm talking about The Outlet which meanders for a half mile or so behind The Island, a protected nesting ground for Canada geese and frequently visited by blue herons, green herons, osprey, duck and other water fowl. Narrow as a canoe length in places, The Outlet opens up to a series of lovely lagoons, mostly covered with water lilies. On a sun-dappled morning last week, I kayaked through this serene, almost silent backwater where the only living things I encountered were turtles, geese, ducks, and a lone blue heron. Recent sitings also included an otter and a large black bear, loping along the shore.
The Outlet ends at the newly installed diversion drain — the result of years of planning and effort by the Stockbridge Bowl Association — which will enable a draw-down of water from the lake, killing invasive weeds (including, sadly, the beautiful water lilies!) by exposing them to the winter cold.  Just this week the state of Massachusetts awarded the SBA a $600,000 grant towards their multi-phase campaign to rejuvenate the Bowl for generations to come. Here's a poem by Mary Oliver about another morning, a different pond, but, I believe, the same "prayer heard and answered."
Morning Poem
  Every morning the world is created. Under the orange   sticks of the sun the heaped ashes of the night turn into leaves again   and fasten themselves to the high branches — and the ponds appear like black cloth on which are painted islands   of summer lilies. If it is your nature to be happy you will swim away along the soft trails   for hours, your imagination alighting everywhere. And if your spirit carries within it   the thorn that is heavier than lead — if it's all you can do to keep on trudging —   there is still somewhere deep within you a beast shouting that the earth is exactly what it wanted —   each pond with its blazing lilies is a prayer heard and answered lavishly, every morning,   whether or not you have ever dared to be happy, whether or not you have ever dared to pray.