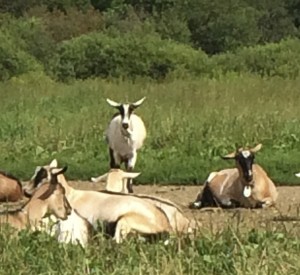 Last weekend we drove over to Monterey, Mass. where, years ago, we had spent many happy summers. The old brown-shingled Cape we rented there was a mile or so down the road from Rawson Brook Farm which makes and sells Monterey Chèvre cheese. We used to walk from our place to the farm at least once a week along one of the prettiest stretches in the Berkshires. Nothing much has changed. New Marlborough Road still meanders past fields of corn flowers and goldenrod, over a brook, up a hill lined with ancient maples, and down into a long valley. Follow the road over the brook again and there off to the left, you'll see a herd of American Alpine goats, sunning themselves in a paddock.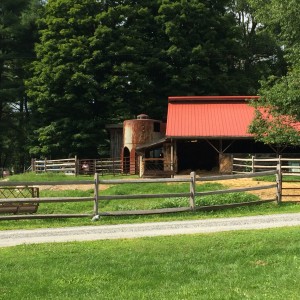 You've arrived at Rawson Brook Farm. The goats belong to Susan Sellew who has been making Monterey Chèvre on the property since 1984. It's a quiet, peaceful spot. The three different flavors of cheese — Plain, Thyme and Olive Oil, and Chives and Garlic — are still sold in the milking shed on the honor system. They're also available in stores around the area.
We ran into Susan on her tractor as we were leaving, and she told us she was on her way to the vegetable garden to harvest garlic. We took a moment to catch up on mutual acquaintances, the weather, and gardens — the conversational staples of country life. She agreed with my observation that the hard-learned lessons the garden teaches us one year never seem to apply the next. "But you have to be patient," she said. "Because it all evens out in the end, don't you think?" Then she shifted into gear and rattled off down the hill.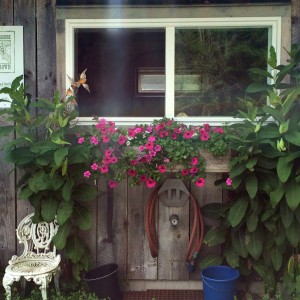 A lot of patience has certainly gone into making Susan's mild, moist, fine-grained Monterey Chèvre. It's easily spreadable — on freshly toasted multi-grain bread, perhaps, and topped with left-over ratatouille. Or try this simple, fast, and delicious recipe that I've adapted from the Union Square Cookbook for skinless, boneless chicken breasts, stuffed with chèvre cheese and herbs.
Slit a pocket lengthwise in the breast and spoon in (I actually do this with my fingers) chèvre, softened with some olive oil, and mixed with a handful of chives and herbs.  Sprinkle with salt and pepper and then saute until nicely browned in olive oil or butter.  I usually put the stuffed breasts in the oven for 10 minutes or so at 375 to make sure they're cooked through and to let the chèvre/chive mixture infuse the breasts and melt a bit into the pan.  Spoon the melted chèvre/chive sauce over the breasts when you serve.  The chicken is particularly good with fresh asparagus and couscous.
What are you cooking these days?  Send me word in the comments section below.  It would be nice to hear from you!