Moss covered paths between scarlet peonies, Pale jade mountains fill your rustic windows. I envy you, drunk with flowers; Butterflies swirling in your dreams. – 'Visit to the Hermit Chui' by Qian Qi (Tang Dynasty)  
I first fell in love with tree peonies at Naumkeag, the historic Stanford White "cottage" in Stockbridge, Massachusetts which is just down the road from us in the Berkshires. The more elegant and refined relative of the herbaceous peony — that floppy favorite of the springtime garden — the tree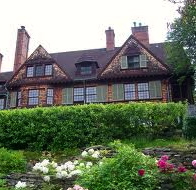 peony is known as "mudan" in Chinese and has been an integral part of Chinese culture for over 3,000 years. Countless Chinese poems, such as the one above, paintings, and textiles are filled with images of tree peonies. First used for medicinal purposes, the plant became a favorite of the Imperial Garden where new varieties were created through seedlings and grafting. (The word "mudan" means a plant that can reproduce from both seed and sucker).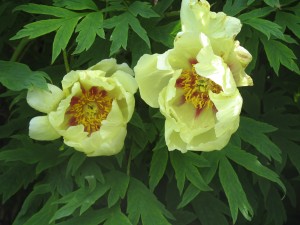 The flowers of the tree peony are larger than their herbaceous cousins, bloom several weeks earlier, and can grow to the size of dinner plates on mature plants. After the flowers have faded, tree peonies are also far more interesting than the herbaceous variety with their deep green fan-like leaves that turn purple and gold in the fall. Once comfortably situated in well-drained soil and dappled sunlight, they can live for centuries. But, in my experience, they take their time getting comfortable. Unlike most perennials which I tend to move about like lawn furniture until I find the right spot, tree peonies get grumpy when forced to relocate. I've moved mine twice in the fall, which is the best time to plant them, but the following spring — almost in spite — they've refused to bloom.
To see these magnificent plants in all their glory pay a visit if you can in late May to Naumkeag, which has over 40 varieties. These tree peonies were brought back from China by Mable Choate, the daughter of the original owner of Naumkeag,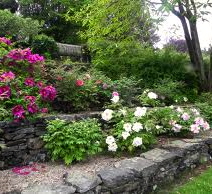 who fell in love with them on a trip to Asia in 1936. The garden she created for them, together with the many other "outdoor rooms" at Naumkeag, are the result of a brilliant 30-year collaboration between Mable and the landscape architect Fletcher Steele.  Flowing down a steep hill above Stockbridge, Naumkeag's gardens are thought to represent the first truly modern landscape design in this country. The Trustees of Reservations, which runs Naumkeag, has started an ambitious multi-million dollar renovation of this National Historic Landmark, ensuring that the tree peonies — and this entire 10-acre paradise — will continue to bloom for generations to come.
For more information about Naumkeag, click here: http://www.thetrustees.org/places-to-visit/berkshires/naumkeag.html