Treat yourself to a little bit of heaven — Angel Slices!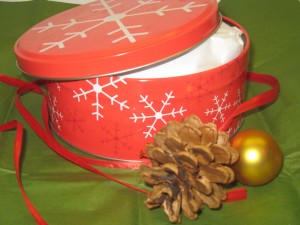 When I left home after college, my mother gave me two books that I think she felt equipped me fully for life on my own: The Holy Bible and Irma Rombauer's original edition of The Joy of Cooking. In those days I wasn't much of a cook — and even less of a baker. And there were no Christmas baking traditions in my family, unless you count the throwing away of unopened fruitcake tins sent by well-meaning relatives. So I believe I was lucky — no, I think actually, blessed — to somehow stumble upon a recipe at the very start of my baking career in The Joy of Cooking for a bar cookie called Angel Slices.
In The Joy of Cooking a little star symbol indicates that a certain cookie recipe is appropriate for Christmas. Pre-dating "Julie and Julia" by several decades, I proceeded to go through The Joy of Cooking and make every Christmas cookie in the book: Lebkuchen and Pfeffernusse, Almond Meringue Rings, Gingerbread Men, and half a dozen more. I'll spare you the details and save you the time: Nothing came within caroling distance of the Angel Slices.
Cooking has its instances of alchemy, I believe, when certain ingredients, combined or cooked together in a particular way result in something close to magic. To my mind, Angel Slices —made with brown sugar, pecans, shredded coconut, lemon, among other goodies — fall into that category. Glistening with a snowy glaze, these sinfully delicious cookies — packed in festive tins — also make terrific, home-made gifts.
ANGEL SLICES
Makes 12 bars
Time: 20 minutes to prep; 25 minutes to bake; 30 minutes to cool
1 1/2 cups chopped toasted, pecans or walnuts
1 cup flaked or shredded sweetened coconut, lightly toasted
1/4 cup (1/2 stick) unsalted butter, softened
2 tablespoons sugar
1 large egg yolk
1/4 teaspoon plus 1 1⁄2 teaspoons vanilla extract
3/4 cup all-purpose flour, plus 1 1⁄2 tablespoons
2 large eggs
1 cup packed light brown sugar
1 1/2 tablespoons all-purpose flour
1/4 teaspoon baking powder
1/8 teaspoon salt
1 1/2 teaspoons vanilla
Lemon Glaze, if desired, (recipe follows)
Preheat the oven to 350°F. Grease a 9 x 9-inch baking pan* lined with foil, and set aside.
In separate pans, lightly toast nuts and coconut in the oven until fragrant and just beginning to brown, about 5 to 7 minutes. Remove from oven, cool 10 minutes, and coarsely chop nuts. Set aside.
Meanwhile, beat butter, granulated sugar, egg yolk and vanilla in a medium bowl until well blended. Stir in flour until well blended and smooth. Press the dough evenly into prepared baking pan. Bake, uncovered, 10 minutes.
Meanwhile, beat 2 eggs, brown sugar 1 1⁄2 tablespoons flour, baking powder, salt and 1 1⁄2 teaspoons vanilla in a medium bowl until well combined Stir in nuts and coconut. Spread mixture evenly over the hot baked crust.
Return to oven and bake, uncovered, until top is firm and golden brown and a toothpick inserted in center comes out slightly wet, about 20 to 25 minutes. Remove from oven and set pan on a rack. If desired, while the bars are still warm, spread evenly with Lemon Glaze. (Recipe follows.) Let stand until the bars are cool and the glaze is set. Store in an airtight container at room temperature for up to 3 days or refrigerate the container for up to a week.
LEMON GLAZE
1/4 cup fresh lemon juice*
1 cup powdered (confectioner's) sugar
Mix well until completely blended.
| | | |
| --- | --- | --- |
| | Print article | You can skip to the end and leave a response. Pinging is currently not allowed. |